Skip to content
After ash – alternative hurleys of future (and present)
With the traditional source of material for hurleys, ash, in danger of dying out, Eoin Ryan looks at the other options including bamboo and synthetic sticks.
By Eoin Ryan, RTE Sport Journalist
Trigger warning: Before we go any further, those of you with strong beliefs should be aware that this article uses the names 'hurl' and 'hurley' interchangeably – for the purposes of both variety and sheer divilment. In each case, it means the implement you use to play hurling. 
A hurl(ey). A stick made of ash used to hit a ball made of leather. Simple right?
Well, it used to be. We have already coveredthe complexities of the modern sliotar(slitothar?) in some depth but today we look at the noble camán and its growing variety of incarnations.
Ash is a tree in mortal danger. The fungus Hymenoscyphus fraxineus appeared in Ireland early in the last decade and is causing ash dieback disease, an affliction that is expected to eventually kill over 90% of our native ash trees. The rest could be finished off by the emerald ash borer, a type of beetle that is slowly moving westwards through Europe.
The irony is that Ireland's 250 or so hurley makers had been importing 80% of their ash due to shortages here anyway but state forestry company Coillte had planted enough for self-sufficient domestic supply by 2020. With trees dying rapidly or being felled to stop the spread of disease, that is no longer an option.
A small percentage of trees are resistant to ash dieback but it could take a long time before these are successfully identified, bred and mature enough to be used for hurls.
Ash dieback disease in a young tree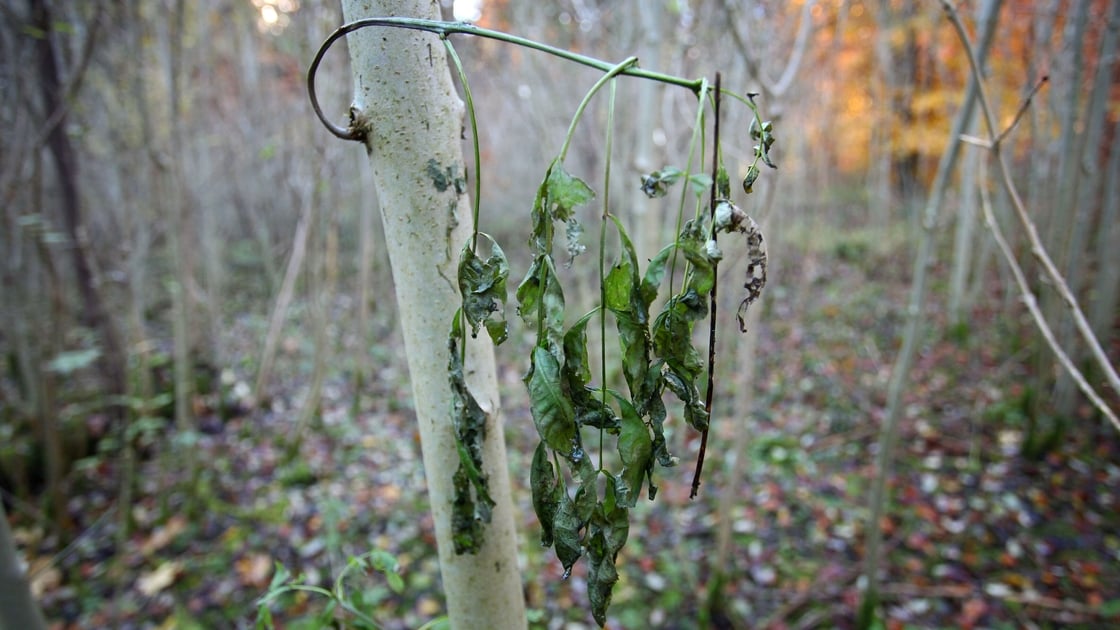 Ash's combination of strength and flexibility has long made it the wood of choice for hitting a sliotar but, withtheir own 20,000 tree plantation deadand the price of higher quality ash expected to rise, Torpey Hurleys from Sixmilebridge have come up with a novel alternative – bamboo.
Torpey invested €300,000 over six years in developing their new 'Bambú' stick – made from a patented bamboo construction combining many small particles into the shape of a hurl – and setting up the different machinery required at their base in Sixmilebridge.
"There are very few products in the world that have to take the abuse a hurley takes in a competitive game. You only realise that when you have to start looking for something other than ash," says head of operations Sean Torpey (pictured).
"It is very strong. I've never seen a ball break a bamboo hurley, as it can an ash one. It can break but we have even added more strength since we launched last summer.
"We won't be getting repeat customers all of the time but if you happen to break a bamboo, the next one that comes into you is pretty much exactly the same whereas you really can't say that with an ash hurley.
"It is more expensive (€65 per stick compared to around €30 for ash) but I think that extra strike and the consistency of it is worth a little bit more."
Sean Torpey at work on a Bambú hurl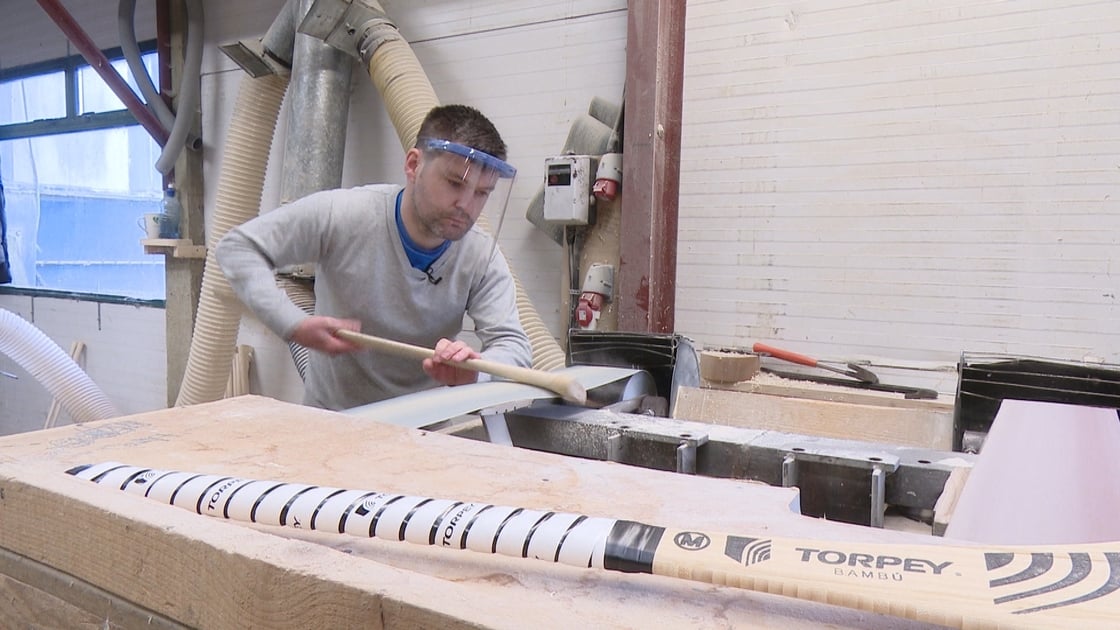 Torpey also believes that his product, made from faster-growing bamboo imported from Asia, is more sustainable than synthetic alternatives and that with ash under threat, using wood "respects the values in terms of the natural product that is a hurley".
"We'd like to see ash stay. We were happy with our business and we didn't want to have to look at alternatives but you can't bury your head in the sand and say everything is great all the time.
"Unless something comes from the scientific world around ash it's very hard to see what the future of ash is going to be, not just in hurleys. It doesn't look good and that's why we have gone down this road.
"We feel with the bamboo we can offer a player a hurley that is good if not better than the top-grade ash hurley."
"If you were given this, you wouldn't know the difference, other than the bamboo one gives you a couple of extra yards in the field"
Clare half-forward David Reidy was given a bamboo hurl to try in January last year and quickly became a convert.
"At that stage I was apprehensive because I would be very particular with my hurleys," he says. "We were in the middle of league so I didn't use it until March. But once lockdown came I had the chance and thought 'Wow, why haven't I been using this since he gave it to me?'.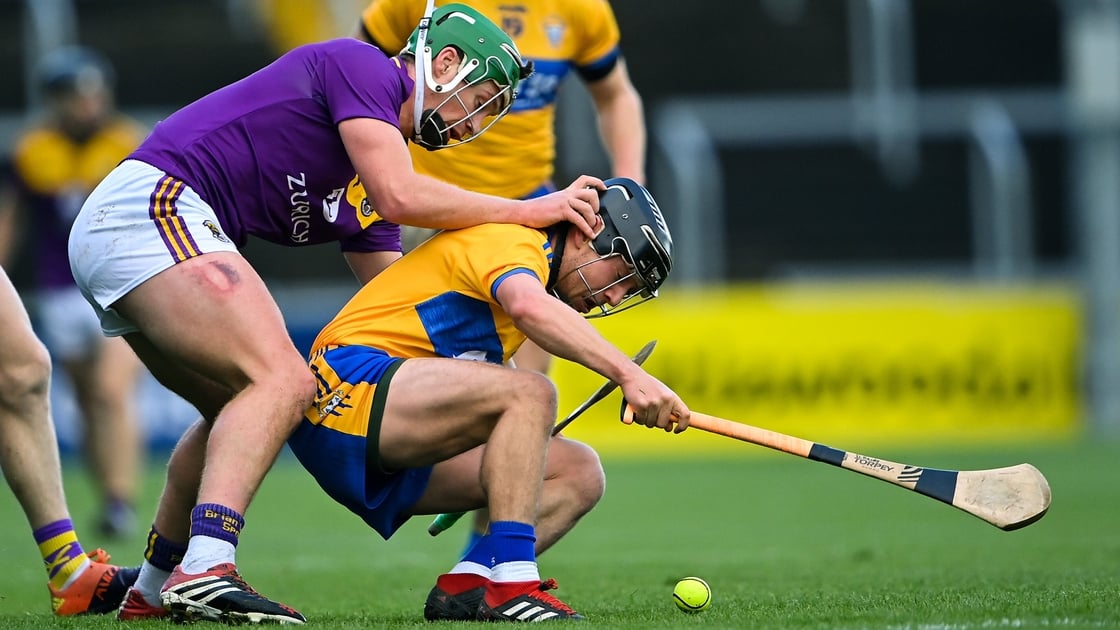 "I've tested many different other options but this looks like a hurley, feels like a hurley and sounds the same as an ash hurley. The balance, which is one of the most important things I look for, is perfect and the strike is clean.
"If you were given this, you wouldn't know the difference, other than the bamboo one gives you a couple of extra yards in the field."
Reidy used the bamboo hurley for the rest of his games for Clare and Éire Óg in 2020 and only broke one, compared to three or four ash sticks in a normal year – "It's probably a bit more expensive initially but in the long run you're definitely saving money."
He estimates that five of his Banner team-mates used the bamboo hurley last year and he expects more of them to adopt it in 2021.
Hurler of the Year Gearóid Hegarty and his fellow Limerick All-Ireland winner Seán Finn also used the bamboo last season.
Torpey still sell a lot more ash hurls, for now at least, but Sean Torpey says the popularity of the bamboo stick since its launch last year has exceeded his expectations.
"We knew we had a good product during its development and were on to something but the big fear you would have is a rejection because of tradition.
"Covid probably meant that inter-county players had time to try new things. Without that time to give it a try, maybe the uptake wouldn't be as high but it's great and we have a lot of players that I would say have transferred for life.
"Players are slow to change at the really top level and I'm really surprised we have changed as many as we have already."
David Dowling shapes a hurl with a spokeshave at The Star Hurley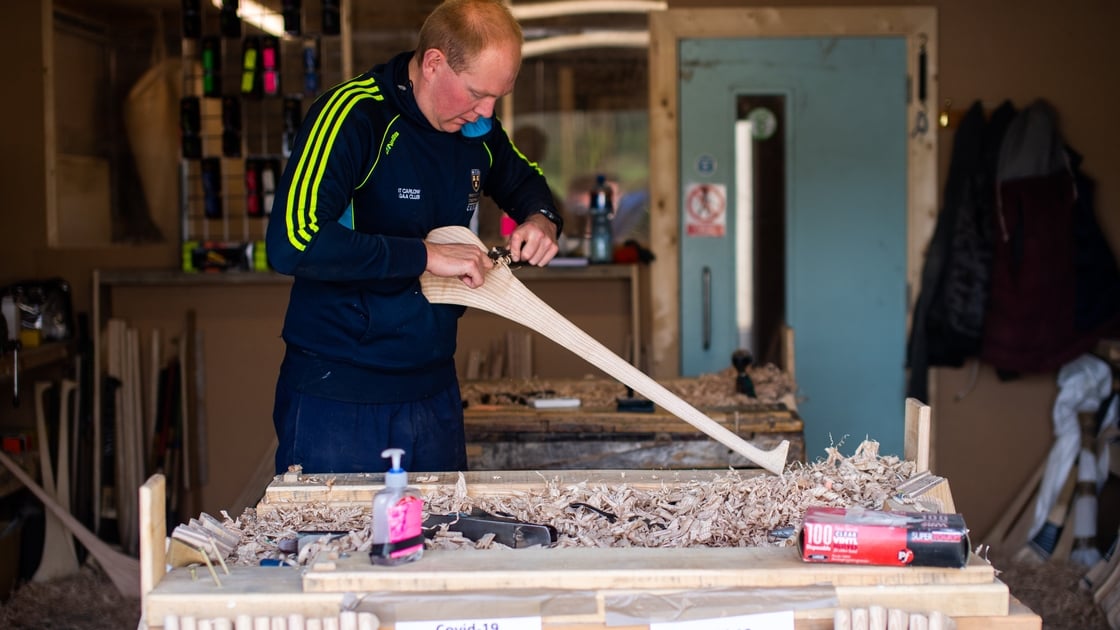 David and Stephen Dowling supply hurls to some of the top stickmen in Kilkenny and beyond. Star Hurleys only use Irish or English ash as they find it lighter than that available from mainland Europe.
While Ash was in plentiful supply last year with a lot of trees being felled, David admits that the longer-term impact of die-back disease is "concerning" and says the cost of ash is rising all the time. However, he is optimistic the traditional wood won't fall out of use completely.
Hurls are traditionally made from the bottom three feet or so of the tree – you measure the required height from the ground to your wrist rather than hip – with the turn at the root providing the wider end known as the bas.
Dowling has been talking to Coillte about the possibility of making more 'spliced' hurls, using straighter pieces of ash from higher up the tree glued together, which would allow many more sticks to be made from one tree than the dozen or so that is currently the case.
Splicing originally started as a way to repair a broken hurl but Dowling says it can result in a stronger stick.
"Back in the 80s and 90s a new spliced hurl was the thing to have. Everybody wanted one. We are looking at possibly doing that again. We can still custom-make the hurl to whatever way the customer wants.
"If you do it that way, you could get three times as many hurls out of every ash tree, and they could be cheaper."
Dowling believes that there could be five to seven years worth of ash left in Ireland and that imports will then be needed to bridge the gap until resistant ash becomes available here.
The words 'plastic hurl' will send a shiver down the arm of anyone who ever had the misfortune of smacking one into another in the 80s.
But synthetics have come a long way since the white Wavin original that registered on the Richter scale in terms of vibrations.
Offaly-based Cúltech's hollow fibreglass stick accounts for over 20,000 of the estimated 400,000 hurls sold in Ireland each year.
Former Dublin star Ryan O'Dwyer is one of the few male inter-county players to have regularly used the Cúltech – he believed being able to rely on its consistency and durability rather than having to adapt to a new ash one after each breakage was a big advantage.
The China-manufactured hurl is also popular among camogie goalkeepers.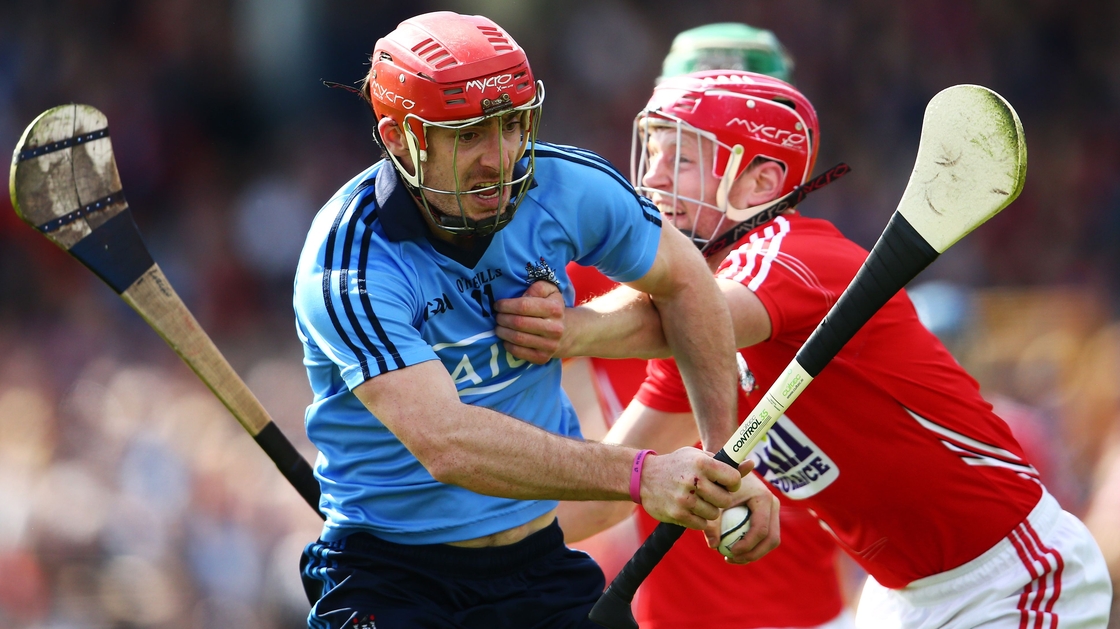 Galway netminder Sarah Healy, an All-Star and All-Ireland winner in 2019, uses one for puck-outs.
"Especially for the long ones, I feel like I get more distance with it," she says. "I'd lose maybe 10 yards if I hit with the ash.
"You do have to hit it right in the centre of the bas or you don't know where it could go. You have to practice a lot with it first.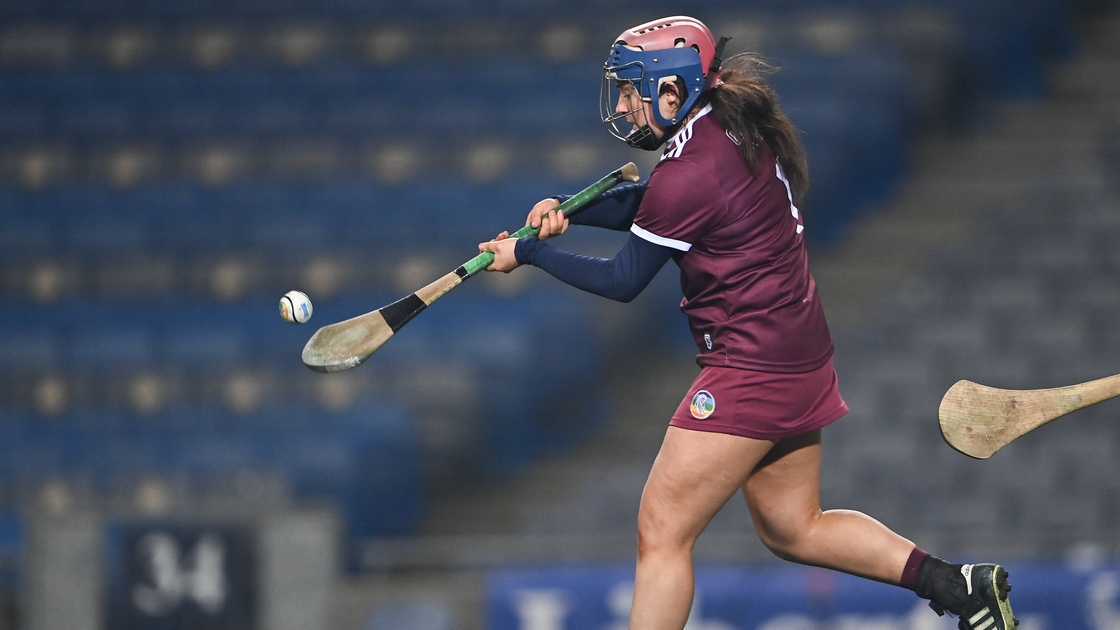 Healy prefers to use an ash stick for general play, especially as the Cúltech doesn't come with the wider bas preferred by goalies.
"I wouldn't be too confident controlling or stopping with it. Mine wouldn't have a big bas and I feel like my touch would be off. I'd be more comfortable doing the basic skills with the ash one.
"The Cúltech has a bigger bounce off it so it's good for puckouts but when you're controlling a ball in front of goal, you kind of want it nice and tidy. The handle would get slippy in the rain but grips on an ash one do as well so it's the same really."
Currently, the only rule in the GAA's Official Guide relating to the construction of hurls is the long-ignored limit of 13cm on the width of the bas and a restriction on metal bands in U12 grades.
However, the GAA have been working with Waterford Institute of Technology (WIT) to come up with standards for synthetic hurls, with the aim of replicating ash as closely as possible, and manufacturers are aware that while they are more durable, their hurls are still expected to break for safety reasons.
Seamus Callanan, Neil McManus and Richie Hogan helped to launch Belfast-based Reynolds Hurling's sandable composite stick in 2017.
Antrim star McManus told RTÉ Sport that he preferred the feel of the Reynolds hurl to the Cúltech but has ultimately stuck with ash for games, as have Callanan and Hogan.
"I did use it but I preferred the ash in the end. I don't think I'm going to change at this stage."
McManus was also given a Bambú stick to puck around with by Clare captain John Conlan and says "I didn't actually know I wasn't playing with an ash hurl until John told me afterwards."
Coloured Reynolds hurleys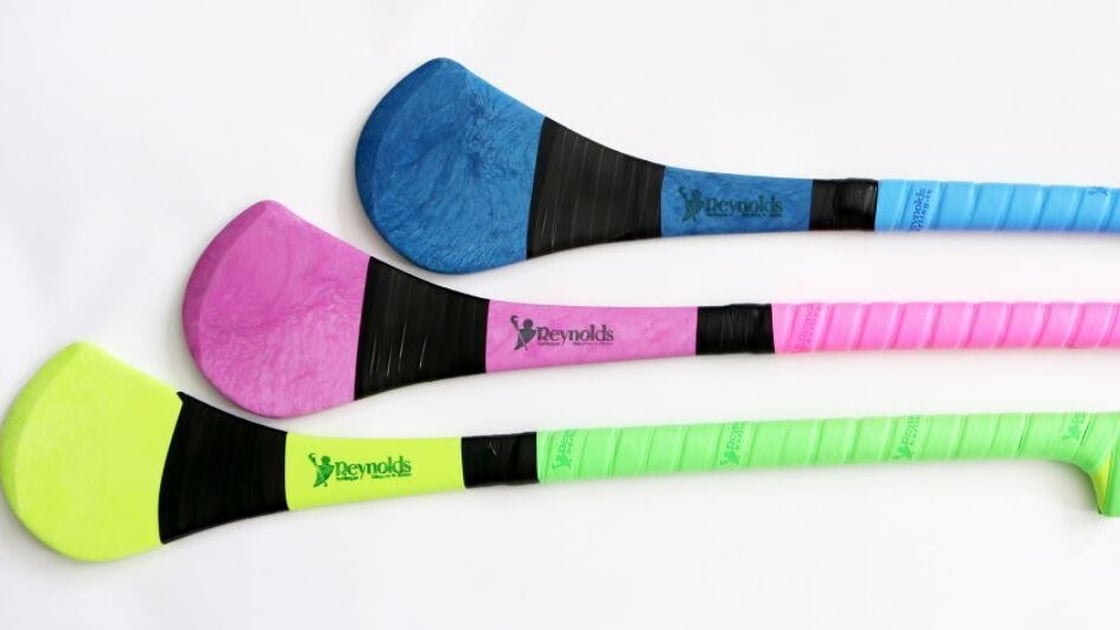 The reluctance for established players to change ingrained habits is something that Ronan Curran, a three-time All-Star centre-back with Cork and head of Mycro Sportsgear, is acutely aware of.
Mycro are better known for their helmets but in 2018 they launched the 'Evolution', a stick built around a carbon rod with reinforced polymer fibres designed to replicate the characteristics of ash.
Curran says the company had also looked at bamboo but didn't feel it offered the same properties.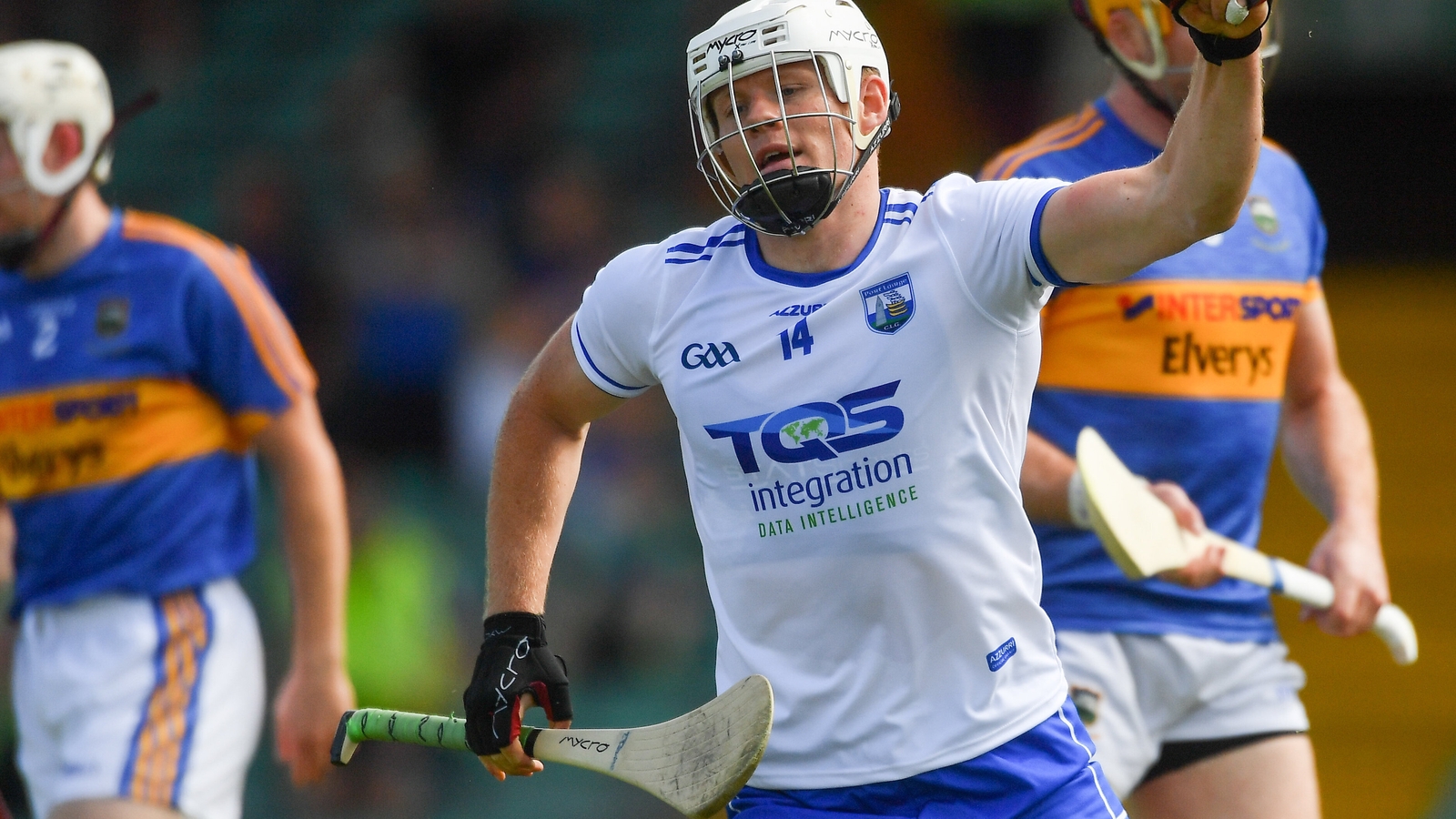 Former Waterford player Tom Devine (pictured) used the Mycro hurley in the championship that year and praised it as offering a sweeter strike with more reliability than ash but other inter-county stars have been slow to follow his lead.
"The thing with the alternative hurleys, whatever they're made of is to get the young fellas using them," says Curran, who led the development of the stick.
"It's very rare a senior player would change over to something they haven't used after playing for 20 years or more. But we envisage in the future there will be a pile of them. There a few at club level using it.
"If the kids grow up with them, that's what they are used to. Kids love something new whereas seniors are more stuck in their ways and superstitious. We see a lot of schools buying them because they can be handed down from class to class.
"The ash dieback disease is not getting any better so the change will happen. You're beginning to see that the timber isn't as good already and fellas are getting sick of buying a new hurley every few weeks."
The Mycro Evolution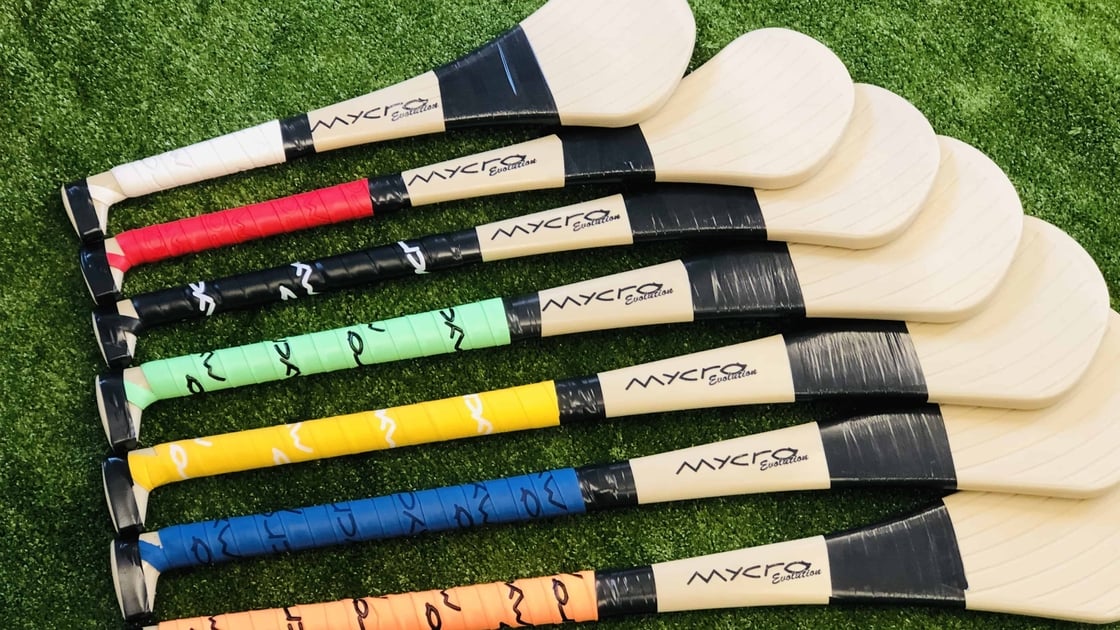 Mycro spent seven years working on their Irish-manufactured stick, which has grooves to drain water and a grain effect for grip.
"Every one you pick up is the exact same so when you're used to you're used to it," says Curran. "No two ash hurleys are the same and there is a bit of getting used to a new one so that's a big benefit.
"When you use it and start playing with it for a few weeks you won't go back to ash afterwards because there's a beautiful touch and strike off it. They are around four times more durable.
"Every synthetic is different. The ones out before us get an extra distance on the ball but if you hit it off centre you get a poor strike. Ours doesn't have a longer strike, maybe five yards, because we wanted to keep the control. More distance takes away from that."
Dark clouds are on the horizon for ash but whether it's through bamboo or coloured synthetic Ireland's hurling innovators are working hard to ensure the future remains bright.
https://l.facebook.com/l.php?u=https%3A%2F%2Fwww.rte.ie%2Fsport%2Fgaa%2F2021%2F0320%2F1205171-after-ash-alternative-hurleys-of-future-and-present%2F%3Ffbclid%3DIwAR2byPr_-DelDtC6ccTSQ8dvI42CtWK_hNFhytDK6Si6fCNl-6HH9xsytUc&h=AT39tQ6-RYJurP4BBJOLCVS5h9wIJ_eQWSGNxvFCKisjcwJjI8h4tyZLzZ0UzclZHj5yoWKrlXb0VDcXN6VPfuBcEqMbjx6o-LfBhmccwWkubuek6GjWL3gGzYIM_MIrWafYLnDj